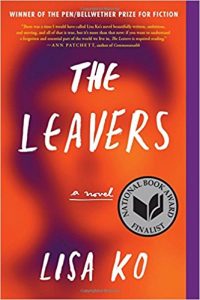 Synopsis: One morning, Deming Guo's mother Polly goes to her job at the nail salon and never comes home. Left with no one to care for him, eleven-year-old Deming is eventually adopted by two white college professors who move him from the Bronx to a small town upstate. They rename him Daniel Wilkinson in their efforts to make him over into their version of an "all-American boy." But far away from all he's ever known, Daniel struggles to reconcile his new life with his mother's disappearance and the memories of the family and community he left behind.
Inspired by real-life stories of family separation, The Leavers is the story of how one boy comes into his own when everything he's loved has been taken away—and how one woman learns to live with the mistakes of her past.
Accolades:  The Leavers was a finalist for the 2017 National Book Award for Fiction and the winner of the 2016 PEN/Bellwether Award for Socially Engaged Fiction, a prize awarded by Barbara Kingsolver for a novel that addresses issues of social justice. It was named a best book of the year by NPR, Entertainment Weekly, BuzzFeed, The Los Angeles Times, Oprah Magazine, and Electric Literature and was a finalist for the 2018 PEN/Hemingway Award and the 2017 Barnes and Noble Discover Great New Writers Award.
About Lisa:  Lisa Ko's writing has also appeared in Best American Short Stories 2016, The New York Times,BuzzFeed, O. Magazine, and elsewhere. She lives in New York City, where she was born. Learn more about her work at lisa-ko.com