When:
February 14, 2021 @ 2:00 pm – 3:00 pm
2021-02-14T14:00:00-05:00
2021-02-14T15:00:00-05:00
Where:
Indian Lake Library online

Contact:
Susan Rollings
5186485444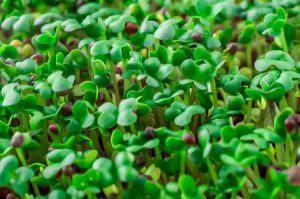 Welcome to our 2nd installment of the Indian Lake Library Winter Gardening Series!  Our program this week will be about growing mighty microgreens in your home!  We will have 2 dates to attend.
We learned about growing lovely sprouts in our first gardening class this winter, and this week we'll delve into the mighty microgreen, the sprout's older sibling!
Microgreens are something you often find at fancy eateries and grocery stores, and they can be really pricey. You can learn how to grown these small, nutrient packed power houses this winter to suppliment your winter diet for not much money or time. 
Microgreens grow quickly, are very flavorful, and often have a higher nutritional value than their grown up counterparts. So sign up below to learn how to perk up your winter meals and green your thumb.
What you'll learn:
what are microgreens & why grow them–what are the specific health benefits?
what are the best varieties to grow?
step by step instructions to grow microgreens, regardless of how much space you have
where to find microgreen seeds and the equipment to grow them
how to harvest and store your microgreens
how to use your microgreen crop
What you'll get if you register for the program:
The zoom link for the classes (There will be separate links for Saturday and Sunday)
Everyone will be emailed a pdf handout of instructions for growing microgreens, plus resources for supplies and seeds
If you want to pick up a printed copy from the library, that will be an option too
The first 5 people to sign up will receive enough seeds to grow a helping of microgreens!
Sign up on the form below to receive your instructions by email & microgreen seeds— Remember ONLY the first 5 responses will receive seeds!
New to online programs and not sure how to do a Zoom meeting? Not to worry! The registration form gives you the chance to ask for our help figuring out Zoom prior to the program!