When:
January 30, 2021 @ 11:00 am – 12:00 pm
2021-01-30T11:00:00-05:00
2021-01-30T12:00:00-05:00
Where:
online with Indian Lake Library

Contact:
Susan Rollings
518-648-5444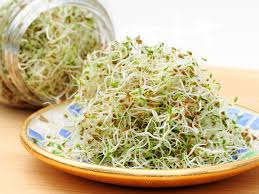 Welcome to our first installment in what we hope will be a popular series of gardening programs for our patrons: The Indian Lake Library Winter Gardening Series!  Our first program will be all about growing nutritious and delicious sprouts!
The best part is you can grow them on your countertop and don't need special or expensive equipment to do it!  It's not expensive, time consuming, and it doesn't require much room in your kitchen.  In this class we will teach you all the basics to get you growing a cheap, healthy source of vitamins C and B, with a healthy dose of fiber to boot.
What you'll learn:
why to sprout–what are the health benefits?
what to sprout–what types of seeds, grains, and legumes can you use?
how to sprout safely–step by step instructions for at least 2 reliable ways to grow sprouts
where to find sprouting seeds–you'd be surprised to see the endless options out there!
how to harvest and store your crop
how to use your sprouts in your everyday meals–simple ways to sneak more fiber and vitamins into your winter diet
What you'll get if you register for the program:
The zoom link for the classes (There will be separate links for Saturday and Sunday)
Everyone will be emailed a pdf handout of instructions for sprouting, plus resources for supplies and seeds
If you want to pick up a printed copy from the library, that will be an option too
The first 15 people to sign up will receive enough seeds to grow one delicious batch of sprouts
Sign up on the form below to receive your instructions by email & sprouting seeds— Remember ONLY the first 15 responses will receive seeds!
New to online programs and not sure how to do a Zoom meeting? Not to worry! The registration form gives you the chance to ask for our help figuring out Zoom prior to the program!