When:
December 31, 2020 @ 10:00 am – 10:45 am
2020-12-31T10:00:00-05:00
2020-12-31T10:45:00-05:00
Contact:
Susan Rollings
518-648-5444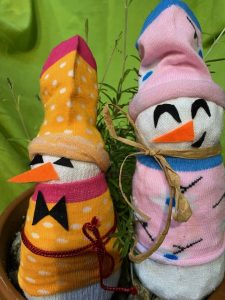 Make a charming snow person figurine from humble socks.  This is especially fun to do as a family, but any one is welcome to join us this week. 
If you're looking for something fun to do at home with the kids,
We're doing the class again twice: Wednesday 12/30 at 2:00 pm,  and Thursday 12/31 at 10:00.  Fill out the google form below to register.
By registering you will receive the exclusive zoom link for the class.
You will be able to pick up a kit from the library with all you need to create the craft. KITS WILL BE AVAILABLE TO PICK UP STARTING MONDAY DEC. 28, 11-5.
Please just have scissors and white glue handy.  A tall cup, tumbler, or travel mug is also a helpful tool for assembling your snow person.
If you are not familiar with Zoom Meetings, there's a place on the form to let us know if you'd like a one-on-one tutorial to learn how to use it.