When:
December 2, 2020 @ 6:30 pm – 7:30 pm
2020-12-02T18:30:00-05:00
2020-12-02T19:30:00-05:00
Contact:
Susan Rollings
518-648-5444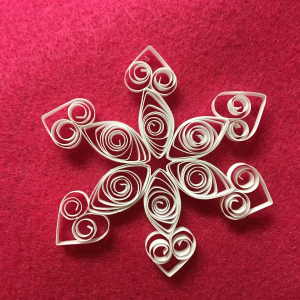 After a short break before Thanksgiving, the Big Crafty is back Wednesday Dec. 2nd at 6:30 pm. This month we'll delve into fun ways to bring some holiday cheer into your homes.  Everything we make will make great gifts to share too!
In this workshop you'll learn the centuries old art of paper quilling, but with some modern updates. It's another mindful relaxing craft we'll talk you through. The design possibilities are endless.
By the end of the class you'll have the skills and supplies to create several ornaments to decorate your home.  This craft is appropriate for older elementary grades, teens, and adults.
First you'll need to register by filling out the registration form found below. By registering you will receive two things you'll need in order to participate:
The exclusive link to the program which you will join on Wed. Dec. 2 at 6:30
The materials kits with the unique supplies you'll need to make your ornaments.
While the kits will have the unique supplies, we hope you will have on hand a few basics, these are:
Everything else we will provide! We have enough supplies for up to 20 participants, so sign up soon!
New to online programs and not sure how to do a Zoom meeting? Not to worry! The registration form gives you the chance to ask for our help figuring out Zoom prior to the program!
Zoom links will go out Tuesdays, with a reminder sent Wednesday afternoons.