When:
January 27, 2021 @ 7:00 pm – 8:00 pm
2021-01-27T19:00:00-05:00
2021-01-27T20:00:00-05:00
Where:
online with Indian Lake Library

Contact:
Susan Rollings
518-648-5444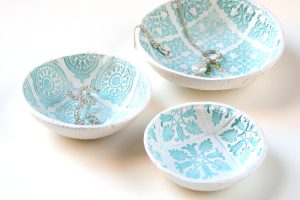 Installment #2 for the Winter 2021 Big Crafty is another family friendly craft that will produce a sweet little decorative clay dish that can be a catch-all for those fiddley bits that need a home like coins, keys, buttons, paper clips, and the odd pair of earbuds.
Or you may just want to make this as a lovely piece to look at for its own sake.
First you'll need to register by filling out the registration form found below. By registering you will receive two things you'll need in order to participate:
The exclusive link to the program which you will join on Wed. January 27, at 7:00 pm.
The materials kits with the unique supplies you'll need to make the bowl covers
While the kits will have the unique supplies, we hope you will have on hand a few basics, these are:
a rolling pin or dowel at least 1 inch thick
a small glass or ceramic bowl that is smooth (one per person)
a sharp knife like an x-acto knife or mat knife, the sharper the better (please supervise any kids who may be participating)
small cup or mug of water
a cooling rack (optional)
Everything else we will provide! Supplies are somewhat limited, so sign up soon!
New to online programs and not sure how to do a Zoom meeting? Not to worry! The registration form gives you the chance to ask for our help figuring out Zoom prior to the program!
Zoom links will go out Tuesdays, with a reminder sent Wednesday afternoons.