When:
November 11, 2020 @ 6:30 pm – 7:30 pm
2020-11-11T18:30:00-05:00
2020-11-11T19:30:00-05:00
Where:
Indian Lake Library
online via zoom
Contact:
Susan Rollings
518-648-5444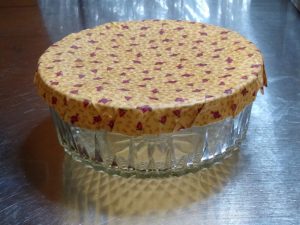 Join us for a eco-friendly craft that'll enhance the way you store leftovers.  This project makes a great hostess gift or stocking stuffer as well. These covers are a great reusable alternative to plastic wrap and foil.  We'll even show you have to fashion your finished fabric into sandwich bags and other clever ways you can use the fabric to store leftovers.
First you'll need to register by filling out the registration form found below. By registering you will receive two things you'll need in order to participate:
The exclusive link to the program which you will join on Wed. Nov. 11, at 6:30
The materials kits with the unique supplies you'll need to make the bowl covers
While the kits will have the unique supplies, we hope you will have on hand a few basics, these are:
an oven
a cookie sheet or similar pan
aluminum foil to cover the pan
Everything else we will provide! Supplies are somewhat limited, so sign up soon!
New to online programs and not sure how to do a Zoom meeting? Not to worry! The registration form gives you the chance to ask for our help figuring out Zoom prior to the program!
Zoom links will go out Tuesdays, with a reminder sent Wednesday afternoons.
You will need an oven and a cookie sheet or similar.  To protect the cookie sheet, you should cover it with aluminum foil.  You'll get full instructions during our zoom meet.